Introduction
In the digital age, technology has revolutionized the way we connect with one another. From social networking platforms to specialized dating websites, the internet has opened up new avenues for people to find love and companionship. One such platform that caters specifically to Christian singles is LoveAndSeek. With a commitment to faith-based connections and a user-friendly interface, LoveAndSeek has become a popular choice for those seeking meaningful relationships within the Christian community.
The Genesis of LoveAndSeek
LoveAndSeek is a niche online dating platform that was launched in 2000 by People Media, a subsidiary of Match.com. Its primary focus is to provide a safe and welcoming environment for Christian singles to meet and form meaningful connections. Unlike mainstream dating websites, LoveAndSeek is designed to cater specifically to the unique values and beliefs of Christian individuals, making it easier for like-minded people to connect and build relationships rooted in faith.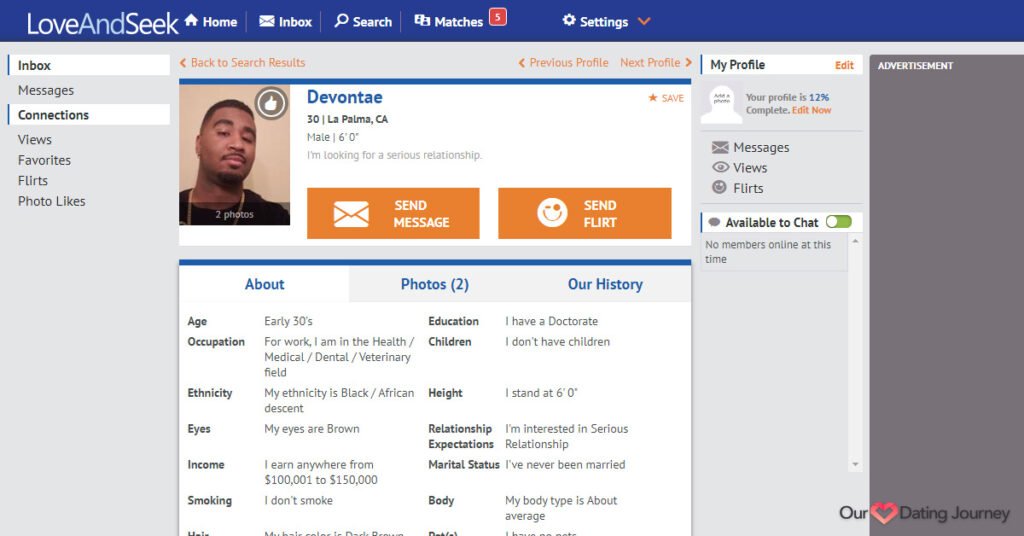 Key Features of LoveAndSeek
Faith-Centered Profiles: LoveAndSeek requires users to provide detailed information about their religious beliefs and practices, allowing members to find potential matches who share their faith. This emphasis on faith ensures that connections on the platform are built on a strong spiritual foundation.
User-Friendly Interface: The platform offers an intuitive and user-friendly interface, making it accessible even to those who may not be tech-savvy. Navigating through profiles, searching for matches, and sending messages are all made simple and straightforward.
Diverse Membership: LoveAndSeek boasts a diverse membership base, welcoming Christians from various denominations and backgrounds. This diversity allows individuals to explore different facets of Christianity and connect with people who may have slightly different beliefs while still sharing core values.
Messaging and Communication: Members can easily connect with potential matches through private messages and chats. This feature allows for meaningful conversations and the development of deeper connections.
Video Greetings: LoveAndSeek allows users to upload video greetings to their profiles, providing a more personal and interactive way to introduce themselves to potential matches.
Compatibility Quiz: The platform offers a compatibility quiz that helps users identify potential matches who align with their values, interests, and relationship goals. This quiz enhances the matchmaking process and increases the chances of finding a compatible partner.
Safety and Security
Ensuring the safety and security of its users is a top priority for LoveAndSeek. The platform employs several safety measures to create a secure online dating experience:
Profile Verification: LoveAndSeek encourages members to verify their profiles, adding a layer of authenticity to the platform. Verified profiles are marked, making it easier for users to trust the legitimacy of other members.
Reporting and Blocking: The platform offers a straightforward reporting and blocking system, allowing users to report any suspicious or inappropriate behavior. This feature empowers members to take control of their online dating
Privacy Controls: LoveAndSeek provides users with privacy controls, allowing them to customize who can view their profile and contact them. This gives members the ability to protect their personal information and interact only with those they feel comfortable with.
Success Stories
One of the most compelling aspects of LoveAndSeek is the success stories shared by its members. These stories highlight the platform's effectiveness in bringing Christian singles together for meaningful relationships and marriages. Many couples who met on LoveAndSeek credit the platform for helping them find their soulmates and build strong, faith-based relationships.
For example, Sarah and David, both devout Christians, were struggling to find like-minded individuals in their local church community. They decided to give LoveAndSeek a try and were pleasantly surprised by the quality of connections they made. After months of getting to know each other, Sarah and David realized they were meant to be together. They eventually got married and now credit LoveAndSeek for bringing them together on their faith journey.
Challenges and Criticisms
While LoveAndSeek has been successful in facilitating faith-based connections, it's not without its challenges and criticisms. Some users have reported issues with fake profiles and scammers, which is a common concern on many dating platforms. However, LoveAndSeek's efforts to encourage profile verification and report suspicious activity help mitigate these concerns.
Another challenge is the limited pool of potential matches, especially in less populated areas. Christian singles in rural locations may find it harder to find compatible matches on the platform compared to those in urban areas. However, this issue is not unique to LoveAndSeek and is a common challenge faced by niche dating sites.
Conclusion
In the fast-paced world of online dating, finding a platform that aligns with your values and beliefs can be a game-changer. LoveAndSeek has successfully carved out a niche in the online dating market by catering specifically to Christian singles, offering a safe and welcoming space to connect, and fostering meaningful relationships rooted in faith.
While no online dating platform is without its challenges, LoveAndSeek's commitment to faith-centered connections, user-friendly interface, and safety features make it a valuable resource for Christian individuals seeking love and companionship in the digital age. As technology continues to shape the way we connect with one another, platforms like LoveAndSeek provide a bridge between faith and modern dating, helping people find love while staying true to their religious values.